SEED SPOT NEXT TEAM
Courtney Klein
Co-Founder & CEO, SEED SPOT // [email protected]
​

Courtney started her first nonprofit at the age of 21 with a mission to educate, empower, and invest in the next generation to change the world. Now serving as Co-Founder & CEO of SEED SPOT, she has been profiled by Forbes, USA Today, Huffington Post and other national news outlets for her work supporting the dreams of entrepreneurs. She has spoken to corporate, education, and entrepreneurial audiences around the world and participated in the United Nations UPEACE Executive Education Program in Thailand & Cambodia focused on Social Entrepreneurship and Innovation. Courtney has been recognized as one of the "Top 10 Business People of the Year" and "25 Most Dynamic Women in Business" by the Phoenix Business Journal.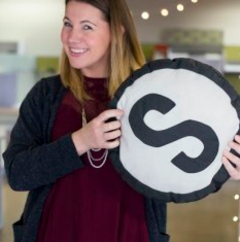 Gretchen Naugle
Director SEED SPOT NEXT //
[email protected]
Gretchen's experience working with public education, private education, home school groups, and charter schools made her aware of the challenges students are facing today in obtaining real world entrepreneurial skills. This problem propelled Gretchen to take action and help create SEED SPOT NEXT. She went through SEED SPOT as an adult entrepreneur to create this program. Gretchen loves seeing high school students empowered to make a difference in their community. Gretchen and her husband Lukas have 4 amazing daughters who fuel her passion to bring this education to schools. She loves traveling, hiking, Russian literature, and cooking international cuisine.
​
---
SEED SPOT NEXT ADVISOR
Jaime Casap
Chief Education Evangelist, Google

Jaime Casap is the Chief Education Evangelist at Google. Jaime evangelizes the power and potential of the web, technology, and Google tools as enabling and supporting capabilities in pursuit of fostering inquiry-driven project-based learning models. Jaime collaborates with educational organizations and leaders around the world, building innovation and iteration into our education practices. He speaks on the subject of technology, education, and innovation at events around the world.